Seminars, Webinars, & High-level Events
Joint CEF - AFR Webinar on Fostering Private-Sector-Led Growth in the MENA Region: A New Role for the State
September 26th, 2023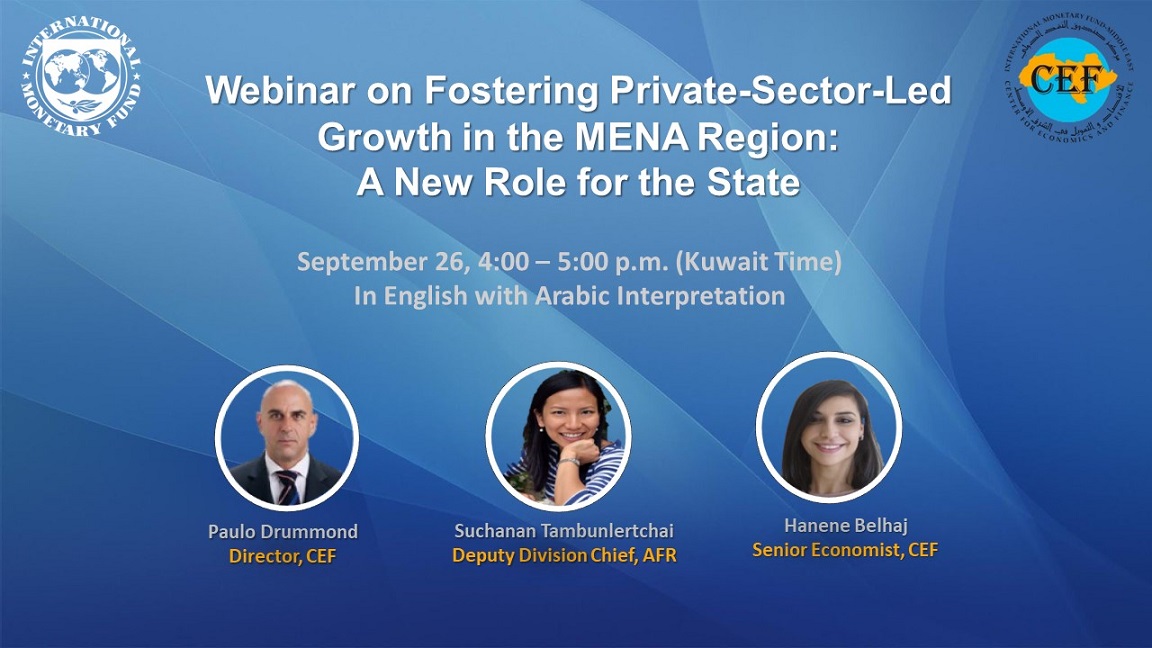 The International Monetary Fund-Middle East Center for Economics and Finance (IMF-CEF) and the IMF's African Department (AFR) held a joint webinar titled " Fostering Private-Sector – Led Growth in the MENA Region: A New Role for the State" on Tuesday, Sept 26, 2023.
Mr. Paulo Drummond, Director of the CEF, gave opening remarks and Ms. Hanene Belhaj, Senior Economist at the CEF, moderated the event.
The presentation is based on Chapter 3 of the book, Promoting Inclusive Growth in the Middle East and North Africa titled "Fostering Private-Sector-Led Growth in the Middle East and North Africa" commenced with an acknowledgment of its critical relevance in the MENA region. The speaker began by shedding light on the historical prevalence of state-owned enterprises (SOEs) and their substantial impact on the economy revealing a heavy reliance on SOEs, which, though initially beneficial, often enjoyed fiscal advantages, straining fiscal resources and inhibiting private sector growth. This scenario was underscored by the high share of public consumption and public investment, primarily financed by state-owned banks.
The critical issue at hand was the fiscal and administrative privileges enjoyed by SOEs, which created market distortions detrimental to private sector competition. Research findings confirmed that SOEs were less productive and correlated with lower market competition, reduced business dynamism, and diminished private sector investment.
The proposed solution involved a transition from the state as an active player in the economy to a facilitator of private sector development. Key elements included enhancing SOE governance, establishing equitable competition policies, and phasing out unwarranted state financial support.
In conclusion, the presentation advocated for comprehensive reforms to empower a more dynamic private sector, seen as essential for sustaining economic growth and bolstering competitiveness in the MENA region.
The floor then opened for discussion during the Q&A session with a diverse audience from the Arab world, comprised of public sector officials, academics, and representatives of the business community, civil society, and other international organizations.

In closing, Ms. Hanene thanked the speaker for sharing her insights on Fostering Private-Sector-Led Growth in the region and members of the audience for the lively discussions.
For more details about the webinar, please refer to the following links: