Seminars, Webinars, & High-level Events
High-level Symposium on Inclusive Development in the Arab World: A Call for Action
February 14th, 2018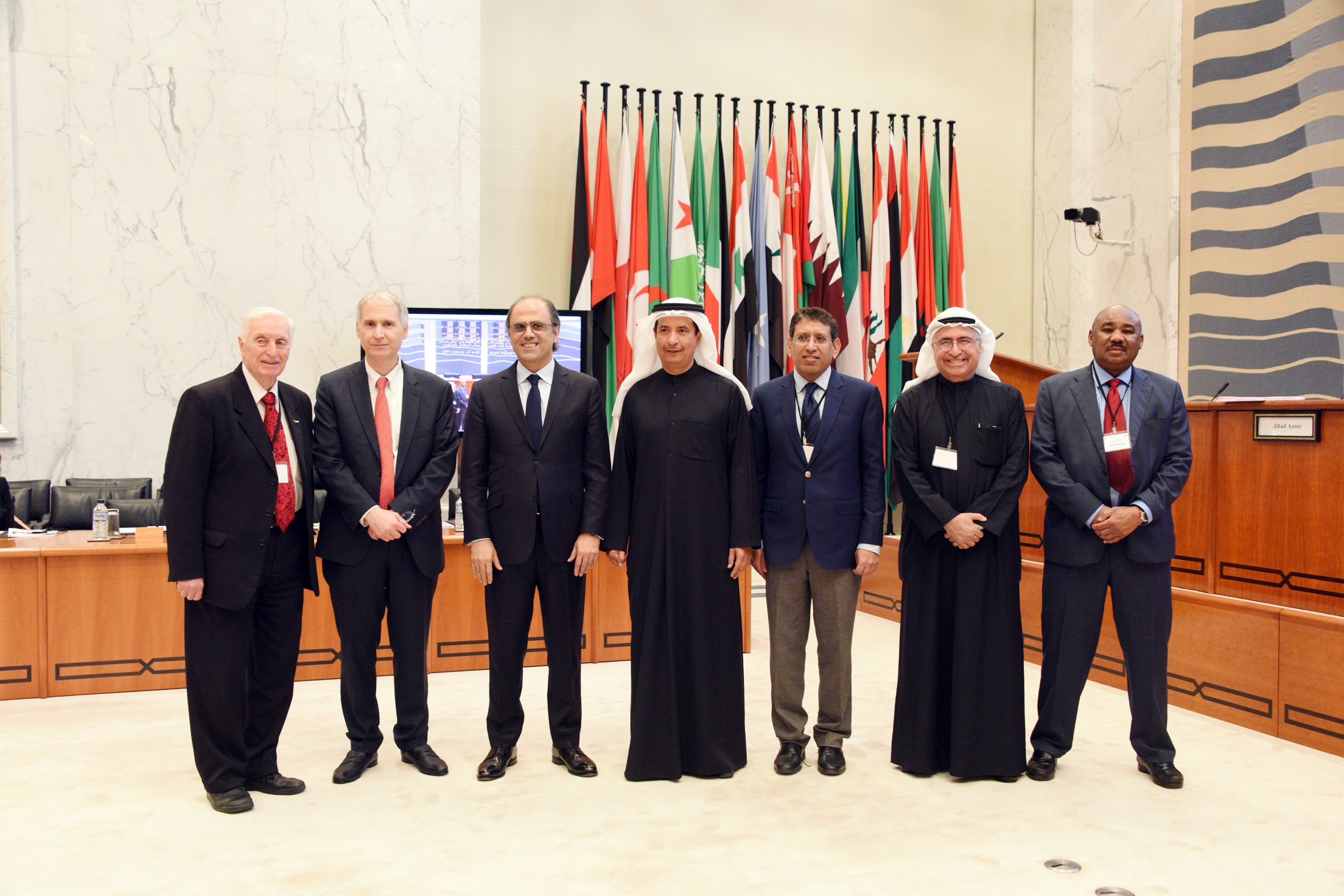 The IMF Middle East Center for Economics and Finance in Kuwait, jointly with the Arab Fund for Economic and Social Development, held a high-level symposium that discussed economic policies to achieve inclusive development in the Arab world.
The IMF Middle East Center for Economics and Finance (CEF) in Kuwait, jointly with the Arab Fund for Economic and Social Development (AFESD), held a high-level symposium on "Inclusive Development in the Arab World: A Call for Action" on Wednesday, February 14, 2018. The event was hosted at the Arab Fund's Headquarters. The panel discussion was chaired and moderated by His Excellency Dr. Yousef Al-Ebraheem, Economic Advisor at Al-Diwan Al-Amiri. It included, Dr. Jihad Azour, Director of the IMF's Middle East and Central Asia Department, as the keynote speaker, and Dr. Ibrahim Elbadawi, Managing Director of the Economic Research Forum, and Professor Adeel Malik of Oxford University as discussants.
During his introductory remarks and the subsequent discussion, His Excellency Dr. Yousef Al- Ebraheem indicated that the symposium was the eighth high-level forum organized by the CEF jointly with the AFESD, aimed at stimulating an open debate on the evolving economic challenges faced by policymakers in Kuwait and the wider Arab community. He discussed the economic and financial sector reforms that are essential to achieve sustained inclusive growth and reduce unemployment in Arab countries, taking into consideration the challenges of widespread conflicts, a refugee crisis and migration crisis, as well as low and volatile oil prices.
Dr. Azour made the case that now was the time to accelerate reforms to promote higher and more inclusive growth in the Arab World. First, the region is facing the pressing need to create jobs and harness the talent of 27 million youth who will enter the labor force in the next five years. Second, it should take advantage of the strengthening global economy, expected to grow at 3.9 percent in 2018 and 2019, fastest pace since 2011.
Noting that the region continues to bear the burden of protracted conflicts and was hit by the 2014 drop in oil prices, Dr. Azour observed that growth has not been strong enough for much of the decade to create jobs for many and lift their living standards. This led to growing frustration about joblessness, poverty and inequality, especially among the youth, women, rural communities, and refugees.
Dr. Azour emphasized that creating the conditions for sustained job-rich growth will require macroeconomic stability supported by prudent fiscal and monetary policies. But countries should also pursue a critical mass of reforms aimed at fostering the private sector, diversifying economies, boosting productivity and investment, and enabling greater inclusion.
With more that 55 percent of firms in the MENA citing corruption as a major constraint, the region needs to strengthen governance, accountability, and transparency. Reforming the business climate and leveling the playing field would be key to promoting private investment, especially FDI, which could facilitate technology and knowledge transfer to the region and further integrate it to the global economy. SME loans account for just 2 percent of GDP in the region, so it would be important to enhance financial inclusion, including by leveraging FinTech. Finally, there is a need to reform education in order to equip people with knowledge and skills demanded by the private sector competing in today's global economy.
Dr. Azour saw considerable scope for fiscal policy to support growth and promote opportunity for all. With tax revenue in the MENA averaging just 9 percent of GDP, the region could mobilize additional revenue by moving to a more progressive tax system and eliminating tax exemptions. Substantial fiscal savings could be realized by phasing out generalized fuel and energy subsidies in the region amounting $74 billion annually, or about 25 percent of the world total. Fiscal space from these measures could finance high-quality, more efficient social and capital spending. Recent research showed that a 1 percentage point of GDP cut in energy subsidies redirected to infrastructure spending has the potential over 6 years to increase GDP by 2 percentage points while creating half a million new jobs.
Dr. Azour briefed the participants about the conference on promoting growth, jobs, and inclusiveness in the Arab World that the IMF organized with the Moroccan government, the Arab Fund for Economic and Social Development, and the Arab Monetary Fund in Marrakesh last month. He drew their attention to the conference's "ACT NOW" call for action to promote Accountability and transparency, Competition, and Technology and Trade while ensuring that No one is left behind by building stronger safety nets, creating Opportunities through more and higher social and investment spending and fairer taxation, and creating Work for all through improved education and skill matching.
Following Dr. Azour's presentation, Dr. Elbadawi and Dr. Malik presented a complementary analysis of the reforms needed to achieve inclusive development in Arab countries, bringing to the fore lessons from specific Arab countries as well as global experience.
Press Coverage: