Seminars, Webinars, & High-level Events
Regional Workshop for Directors of Training
March 1st, 2016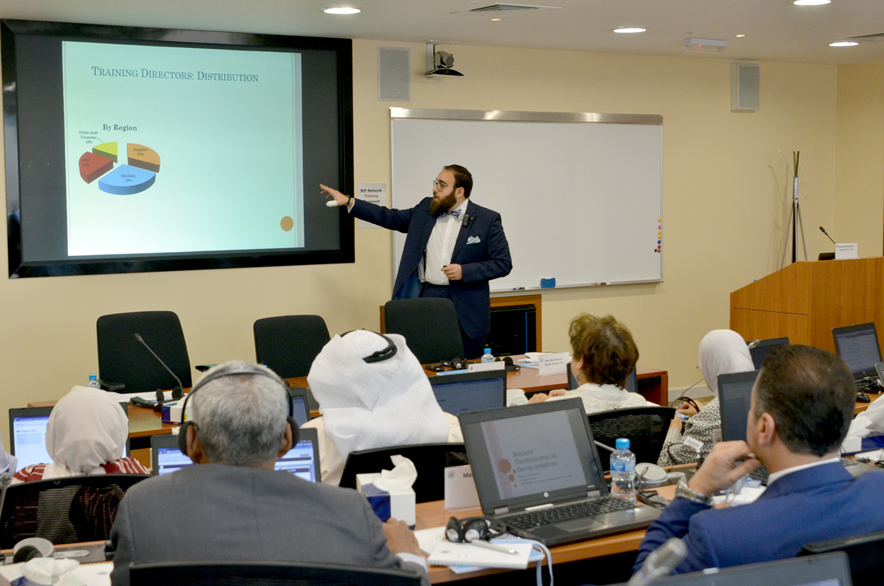 On March 1, 2016, the CEF hosted the third Directors of Training Seminar to assess and exchange views on the evolving training needs and policy priorities of the Arab League countries. The seminar was attended by 30 participants (directors of training, human resources managers, heads of career development units) from 17 Arab countries.

As a background for the seminar, the CEF carried out an Online Survey that targeted two groups of respondents: Alumni who attended CEF training activities in 2014 and 2015, and the directors of training and other officials involved in nominating participants for CEF training courses. "We are proud to announce that the findings of the survey were very positive. The results indicated CEF training's positive impact on enhancing public sector officials' skills in economics and finance.
Ray Brooks, Division Chief at the IMF-ICD, discussed the online learning tools that have been developed to reach a broader audience. Raja'a Al-Behaisi, CEF Office Manager, explained the administrative process followed in CEF courses from nomination to course completion. Muhannad Darwish, Program Officer at the CEF, explained in detail the findings of the Online survey and highlighted the key lessons to enhance the delivery of training at the Center. Gina Paone, Advisor and Senior Personnel Manager at the IMF-ICD moderated the session on effective ways to enhance participants' capacity and ensure that the CEF training courses take into consideration their skills progression and their overall career development goals set out.
In his closing thoughts, Kanaan underscored the key takeaways from the seminar including the importance for the CEF to continue an open dialogue with the Directors of Training to ensure that the course program for 2017 reflects the needs of the countries; raises the regional relevance of the various case studies to ensure that they are of practical use for the participants; and enhances the sequencing of courses and expands the use of online learning.
Press coverage: