Seminars, Webinars, & High-level Events
International Conference on Islamic Finance: Meeting Global Aspirations
November 11th, 2015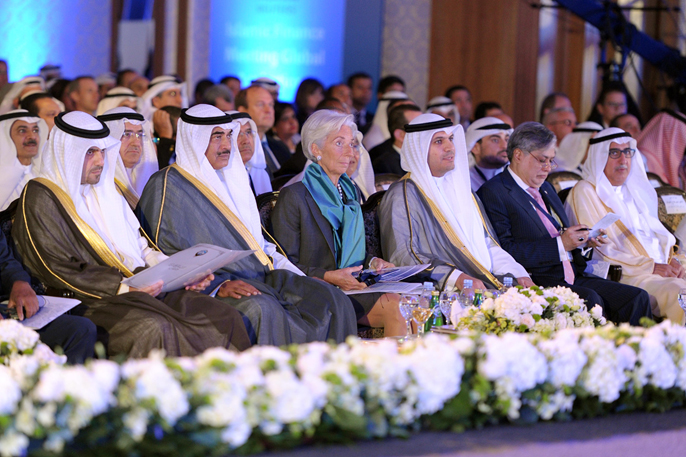 The IMF's Middle East Center for Economics and Finance (CEF) and the Middle East and Central Asia Department, jointly with the Central Bank of Kuwait (CBK) organized an international conference on "Islamic Finance: Meeting Global Aspirations" in Kuwait on November 11, 2015.

Several finance ministers, Central Bank Governors, high level officials and academics attended the event, which provided an opportunity for a global policy dialogue to draw a vision for sustained growth of the Islamic Finance industry.
The Governor of the Central Bank of Kuwait, Dr. Mohammad Al-Hashel, and the Managing Director of the International Monetary Fund, Ms. Christine Lagarde, chaired the opening session. Al-Hashel explained that although Islamic finance only accounts for a small share of all global financial assets, its role and relevance in the global financial system has been growing fast and it has the potential to achieve more in at least three dimensions. First, Islamic finance can foster greater financial inclusion, especially of large underserved Muslim populations. Second, it could ease access to finance for small and medium-sized enterprises (SMEs) with its emphasis on asset-backed financing and risk-sharing features. Finally, it poses, in principle, less systemic risk compared to conventional finance as it prohibits speculation.
Ms. Lagarde emphasized that unlocking the true potential of Islamic finance requires strong cooperation among all stakeholders; from the Middle East to Asia and beyond; from Islamic banks, policymakers, regulators, as well as from international financial institutions such as the IMF, the World Bank and the Financial Stability Board. Following the opening session, three thematic sessions were conducted interactively and explored issues centered on fostering financial inclusion and growth through access to finance, regulation and supervision to promote stability, and developing Suk?k and other long-term Islamic finance instruments for sustainable development.
The IMF has long been involved in Islamic finance and played a key role in the establishment of the Islamic Financial Services Board. The establishment of an Interdepartmental Working Group for Islamic finance also demonstrates the IMF's recognition of the importance of Islamic finance.
Conference page on the IMF website:
http://www.imf.org/external/np/seminars/eng/2015/islamicfinance/
IMF Survey Interview with H.E. Dr. Mohammad Al Hashel:
http://www.imf.org/en/news/articles/2015/09/28/04/53/sonew110915a
Speech by Christine Lagarde, Managing Director, International Monetary Fund:
http://www.imf.org/en/news/articles/2015/09/28/04/53/sp111115
Press Release: Statement by IMF Managing Director Christine Lagarde:
http://www.imf.org/external/np/sec/pr/2015/pr15512.htm
Media Coverage: